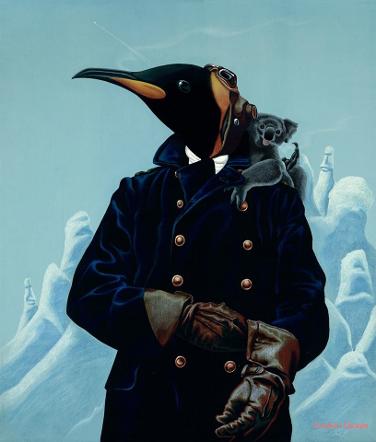 Introduction
Julian Quaye's paintings illustrate his love of ironic juxtaposition with a touch of steam punk sensibility and a huge dose of kitsch.
His Work
He is currently working on brief character biographies which will bind them into a larger narrative.
He describes himself as the bastard great great grandson of Beatrix Potter.
The Aviator
A typical example of his work is 'The Aviator': a penguin in early period pilot's uniform at the North Pole. Or to put it another way, a bird that can't fly dressed in flying kit and standing at the wrong end of the world.
To note
Within three months of exhibiting for the first time he was picked up to be included in a contemporary urban auction alongside Damian Hirst and Banksy by Dreweatts in summer 2012.
Julian Quaye
New brow artist of anthropomorphic characters with Victorian and Edwardian theme.
The Sad Demise of Mr Snuggles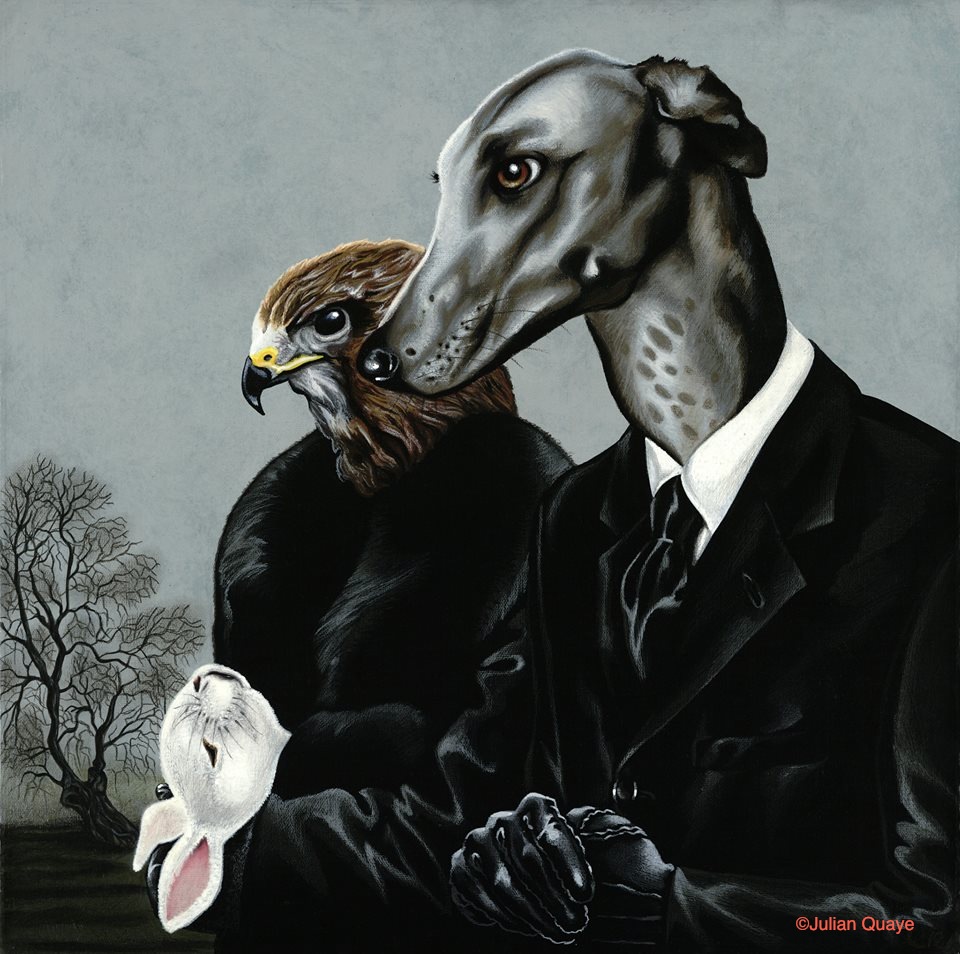 Mixed Media on Canvas

51 x 51  cm

'The Sad Demise of Mr Snuggles'

So read the headline of the provincial Collumpton Echo.  After concerns were raised about the non appearance of Bill Burrows Lubetkin for one of his new moon speaking and distribution of pamphlet engagements at the Woodcutters Inn, a search party was dispatched.  Many days passed before they came across the entrance to
Say Hello to my Little Friends - mixed m
Say Hello to my Little Friends – mixed m
Say Hello to my Little Friends – mixed media on canvas by Julian Quaye.
'Say Hello to My Little Friends': There's something rotten in the village of Cullompton. Robert Warren Lubetkin, crooked bureaucrat. "Objectionable paperwork can always be miss filed…For a small gratuity". Bad bunny brother of Mr Snuggles.
Signed limited edition prints available from http://www.julianquaye.co.uk http://ow.ly/…

Selling stuff so I can buy some coal (smokeless) and fags (cigarettes to our cousins across the pond) to keep me and my nicotine addicted gum chewing flick knife wielding hanging about on dark street corners legion of feral felines warm during these lean winter months.
That mental image alone is gotta be well better than trampolining badgers.
www.julianquaye.co.uk
OVER 30% OFF SELECTED LTD EDITION SIGNED A3 PRINTS.

http://www.julianquaye.co.uk/shop.php#!/Stock-Clearance-When-they-are-gone-they-are-gone-only-available-on-these-pieces/c/21548478/offset=0&sort=normal


Bristol from the BRI, where I'm about to perform neurosurgery after 10 DOUBLE ESPRESSOS!! (it's not rocket science)
www.julianquaye.co.uk