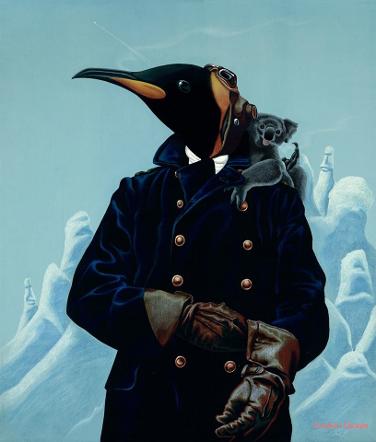 Introduction
Julian Quaye's paintings illustrate his love of ironic juxtaposition with a touch of steam punk sensibility and a huge dose of kitsch.
His Work
He is currently working on brief character biographies which will bind them into a larger narrative.
He describes himself as the bastard great great grandson of Beatrix Potter.
The Aviator
A typical example of his work is 'The Aviator': a penguin in early period pilot's uniform at the North Pole. Or to put it another way, a bird that can't fly dressed in flying kit and standing at the wrong end of the world.
To note
Within three months of exhibiting for the first time he was picked up to be included in a contemporary urban auction alongside Damian Hirst and Banksy by Dreweatts in summer 2012.
Julian Quaye
New brow artist of anthropomorphic characters with Victorian and Edwardian theme.
' />
'let I in!' 

Back from the Smoke.
Flynny with two of his ducking and diving partners in crime. Tearing up a litter box, crapping in a flower bed and generally sticking it to 'the Man'.
More about the Mognificent Seven
Photographing skys for backgrounds for new work.


Despite her oh so cute face and big brown eyes, this pooch supplements her dried food diet with cold sprouts, pulses and beans, hence her back end is currently possessed by The Dark Lord Baphomet. My eyes are burning. 

Me and my shadow. 

Prints available on the website don't you know
Detail.
First contact.
http://www.julianquaye.co.uk/first-contact.php

One of my bags being modeled by one of my muckers, he's a bit of a diva.
Ideal for transporting things from A to B, carrying cat treats and keeping shopping and cigarettes in; while popping into your favourite licensed establishment for a few very strong large alcoholic libations before embarking on the soul crushing commute home or to work.
Alternatively it can be used for shoplifting some souvenir ashtrays from Buckingham Palace and thereby sticking it to the 'Man'.
www.julianquaye.co.uk
SPECIAL OFFERS AVAILABLE!


Mr Snuggles is Straight Outta Colompton
Signed limited edition print 30% off - Xmas sale
http://www.julianquaye.co.uk/shop.php#!/Stock-Clearance-When-they-are-gone-they-are-gone-only-available-on-these-pieces/c/21548478/offset=0&sort=normal

Not sure where I'm going with these background panels, it's all a bit Jackson Pollocks.
Are they even the right way up?
For more works in progress visit here