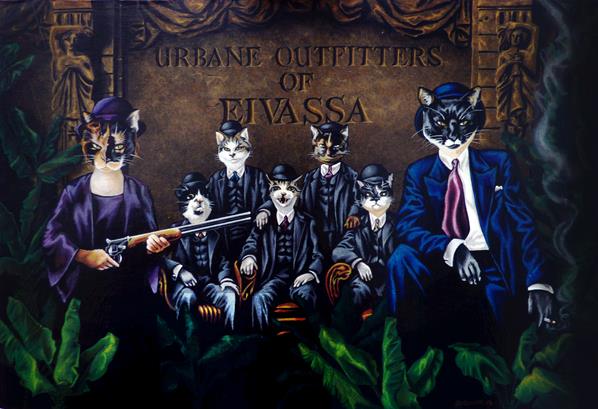 The Mognificent Seven - their story.......
During the great war which decimated the Northern territories, many families found themselves displaced. One of those families was the Kane family, having seen their livelihood destroyed and their land illegally requisitioned by corrupt officials, they embarked on a life of bootlegging, hijacking, robbery and smuggling.
They became folk heroes to those less fortunate, often dividing their spoils to the many desperate homesteaders they encountered on their way.
Their exploits were avidly read and pawed over in the printed pamphlets, periodicals and listened to on the newly introduced electrical contraption 'the voice within the box' audiogram.
After seven years (and an uneasy alliance with the many outlaw tortoise motorcycle gangs), they had acquired a substantial fortune which, with an eye to the future, needed investing..... So.... with the help of the shady businessman and showman Duggie Burns, they headed off to the island of Eivassa to jump the counter to legitimacy.
So here they are, now waiting to be captured on photographic plate, in front of a painted theatrical backdrop for one of their new ventures 'Urbane Outfitters of Eivessa - for ladies and gentlemen of distinction'. The 'ladies' adopting the latest fashion of masculine dressing now prevalent within feral female feline circles. Flotty has no truck with this, adopting a more feminine look but with her trusty rifle at hand. As seven years as one of Albion's most wanted makes one very twitchy and nervous. Old habits die hard.
Flotsima and Flynstance Kane sibling leaders of the infamous Kane Gang, The Mognificent Seven.